We Are A Full Service Emeryville Plumber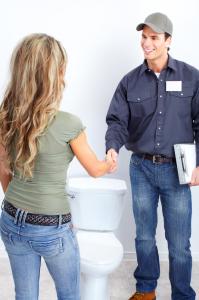 We are a local Emeryville plumbing company. In all of the years serving this community we have dealt with just about every kind of water and gas fixture and every type of plumbing disasters known to mankind. This has been terrific for us because without these problems to solve we wouldn't have gained the vast knowledge and experience we have today.
Our talented and thoroughly trained Emeryville plumbers are certified to work on residential and commercial plumbing systems. That means we will come to your home or business to give you an estimate and once we repair or make an installation we will show you how to keep your always-needed plumbing system in good shape for years to come.
No job is too big or too small for us. We work on everything. Water heaters, toilets, sinks and drains, disposals, clogged water pipes and sewer lines. We also do re-piping, (the whole house or business if necessary), and we can repair or replace broken water lines.
Our expert and efficient Emeryville plumbers repair gas lines, too. We also clear drains and toilet pipes.
Our certified plumbers even provide gas line inspections, (although if you smell gas in the building you should first shut off the main gas valve, call the utility company and then call us for repair).
We also repair and install all types and makes of bathroom fixtures, including faucets, toilets, sinks and tubs, along with the repair of spas and whirlpools.